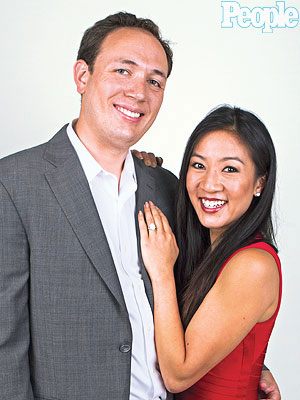 Jen Lombardo
For six years, Michelle Kwan worked with fashion designer Vera Wang to create elegant and functional figure skating costumes.
"She knows me in terms of my lines," Kwan tells PEOPLE, "and she knows my body really well."
For those reasons and more, Kwan is keen on Wang to design her wedding dress following Kwan's announcement of her engagement to U.S. Coast Guard Lt. Clay Pell.
"I did tell her the news," says Kwan, who has been in New York City for Fashion Week. "She was like, 'When is it?'"
Kwan says that throughout her skating career, Wang would have her try on gowns at costume fittings "just for size, for a visual on what's happening for a spring or fall look," the skater recalls. "She'd say, 'This shape would look great on you, try this on!' But I'd say, 'Vera, I'm really excited to be getting married one day, but I don't need to try on a wedding dress and if you're not engaged, it's supposed to be bad luck, right?' But she was like, 'Eh!'"
The commute from Washington, D.C., where Kwan is based, to New York City, where Wang is based, would work well for dress consultations, Kwan says. "I have a long relationship with Vera, so I hope she does it."
A custom-made gown would go quite well with Kwan's custom-made platinum engagement ring, too.