We can't get you these three stars' super-shiny hair, but we can recommend more affordable versions of the pitch-perfect outfits they assembled for every event you've got coming up this weekend — and right on into the work week.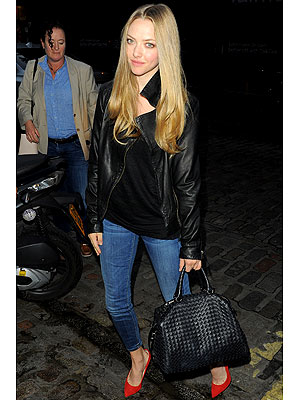 Bauer-Griffin
Saturday night: Yes, this outfit is just a leather jacket, a tee, great jeans and sexy heels. But we think it's definitive proof that you absolutely must have these four things in your wardrobe: Just check out how incredibly adorable they look on Amanda Seyfried! Sure, her moto jacket, luxe carryall and cherry-red pumps combined probably cost more than our rent, but you can get a lookalike outfit without breaking the bank, promise.
BB Dakota makes some of our favorite faux leather — it's cute and comfy, without that squeaky pleather feel you can get sometimes with affordable poly. This Kensie woven block satchel is chic and practical for work or play, and then of course, the pièce de resistance: The perfect pair of red suede pumps (these are just $56!) You (and your boyfriend) can thank us later.