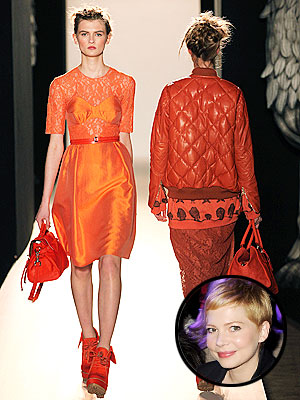 Rex; Inset: Dave M. Benett/Getty
While those of us in our east coast office are still recovering from New York Fashion Week, our British counterparts are busy stylespotting all over London for — you guessed it — London Fashion Week. Here, read up on the latest from the chic shows and star-packed front rows:
Mulberry
Mulberry celebrated another "monster" hit when its latest collection showed at London's Claridges on Sunday morning. Greeting front row attendees such as Michelle Williams, Elizabeth Olsen and Olivia Palermo were two giant yeti creatures standing guard over the catwalk — and guests' seats were covered in shaggy goat hide, too.
Inspired by Maurice Sendak's book Where The Wild Things Are (with English boarding school references tossed in), the collection was a mix of delicate lace and printed dresses teamed with chunky Mongolian fur jackets and shaggy gilets. Models were sporting the latest Mulberry bag, the Del Rey, named after singer Lana Del Rey, who sat front row with her white ostrich leather bespoke edition (and performed at a private dinner later that evening). The show closed playfully with The Muppet Show theme song.
Though stars like Palermo are fashion week veterans, actress Olsen confessed to being a newbie. "This is my first Mulberry show and my second fashion show ever," she told PEOPLE beforehand. "I have no real reason to go to them. But I've heard Mulberry is quirky and fun so this is really exciting!"