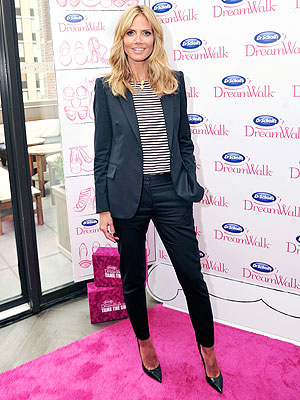 Stephen Lovekin/Getty
Heidi Klum has worked with some of the world's greatest photographers on her sexy photoshoots: Rankin. Norman Jean Roy. And … her mom?
Yep! Erna Klum is the mastermind behind many of the supermodel's daringly bare Instagram pics. "My most sexy photos I would say she took," Klum told PEOPLE at the Dr. Scholl's DreamWalk insole launch. "She's like, 'Ooh, move this way, move that way!"
In fact, some of her most risqué photos have been her mom's idea, Klum admits. "There's one people talked about where I was hugging a palm tree and I was topless? My mom took that one," Klum says. "When I had a sandy butt? My mom took that one. So my mom is responsible for those pictures."
RELATED PHOTOS: What's her best side? Vote on 360° gown views now!
When she's not snapping pics on the beach, Klum's hard at work in heels (which might explain why she's the face of the new Dr. Scholl's campaign). "I've been working as a model for 20 years, and I'm always, always, always, always in my heels," she says. "I'm so used to my feet hurting … I probably wear heels more than I wear flats."
Read More