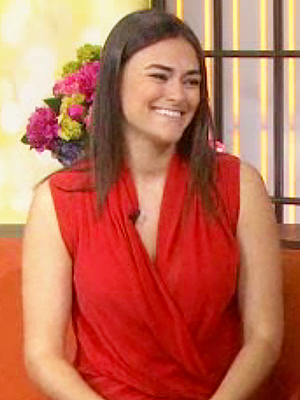 The Today Show
Beauty comes in all shapes and sizes — just ask Myla Dalbesio.
The model, who wears a size 10, shows off her curves in Calvin Klein's new Perfectly Fit campaign, but the company faced criticism last week after an Elle article called her "plus size" for the fashion industry (a term the designer never uses).
"It's kind of confusing because I'm a bigger girl," she told the magazine. "I'm not the biggest girl on the market, but I'm definitely bigger than all the girls [Calvin Klein] has ever worked with, so that is really intimidating."
RELATED PHOTOS: Victoria's Secret Changes Controversial 'Perfect Body' Slogan
Cue the online outrage. Twitter users clashed over whether Dalbesio really is plus-size or just "normal." It's a distinction Dalbesio says is besides the point: She's somewhere in the middle, much like most women.
"Life doesn't work in only extremes, and true body diversity is everything and everyone," she said on the Today show Tuesday. "It's a range of sizes and shapes. It's not just super skinny or just larger." Read More