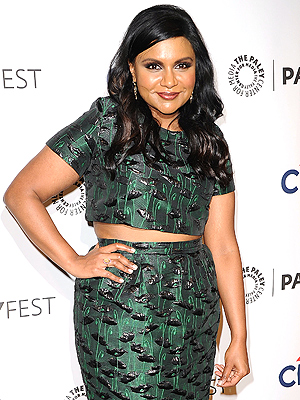 FilmMagic; Getty
Mindy Kaling isn't afraid to make a statement on the red carpet, but the actress revealed she was a bit surprised by all the body buzz her recent red carpet crop top generated.
"Unless you have problems, for most women that's a nice little area right under your bra," she told Jimmy Kimmel Monday of showing a slice of stomach skin in matching Topshop separates, worn to the 2014 PaleyFest. "Some people were pretty mean about it, but then some people were like, 'She's just so courageous!' Aren't surgeons courageous?"
The Mindy Project star also revealed that because of her curvier shape, she falls into this category where the public — and her followers on Twitter — seem to either fervently praise or harshly critique her style decisions.
"I also am the recipient of a lot of backhanded compliments about it, where people are like, 'It's so nice that Mindy Kaling doesn't feel she needs to subscribe to the ideals of beauty that other people do," she shares. "And I'm like, 'I do subscribe!' They're like, 'It's so refreshing that Mindy feels comfortable to let herself go and be a fat sea monster.' By the way, I run and work out. It takes a lot of effort to look like a normal, chubby woman. The way they talk about it, [it's] like, 'She's a pioneer because she's glued to her sofa.'" Read More