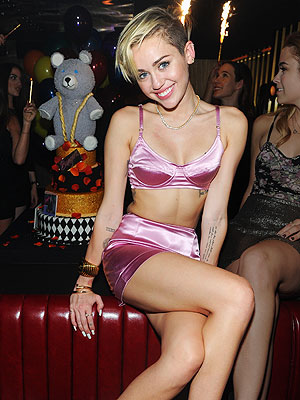 Jamie McCarthy/Getty
Regardless of our thoughts on Miley Cyrus's sartorial choices these days (see here, here and here) there's no denying that she's gotten herself into amazing shape in order to wear the, shall we say, often skimpy getups she now favors.
So while we're not sure we ourselves would wear a pink satin bra and mini with creepers to our own album release party (and this is the tamer of the two outfits she wore) we are interested in how one would shape up to look that good in that outfit.
RELATED: More star body tips from celebrity trainers!
Enter Mari Winsor, an L.A.-based Pilates instructor whose studio Cyrus has been spotted leaving many times this year. "I gave her those legs," Mari tells PEOPLE of Cyrus's now oft-exposed stems. "She's always going to have those long gorgeous legs. We just toned and firmed in all the right places."