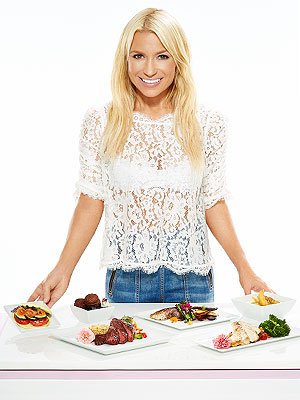 Courtesy Tracy Anderson
Tracy Anderson's high-energy, calorie-torching march towards world domination continues. She's following up her fitness/beauty multiplex with another new endeavor: a meal delivery service.
The Food Program by Tracy Anderson (which launched in L.A. in April but will go national on June 1) was developed by the celebrity trainer to complement her intense workout method, loved by Gwyneth Paltrow and Kim Kardashian.
RELATED PHOTOS: How stars stay fit
In fact, Anderson tells PEOPLE, Paltrow (herself a cookbook author) was "instrumental in helping create the program," and loves the plan's salmon with yogurt-mint dressing. But there's a key difference between their approaches to food: "She's in the kitchen to make things taste insanely amazing and I'm in the kitchen getting weight off of people."
And she has a celeb fan who appreciates her approach: Jennifer Lopez. "She's been on it now for about two weeks, and she loves it, she keeps ordering it," Anderson says. "She's not somebody who usually diets at all … [but] she needs the convenience. I'm so happy that somebody like that loves it because she has access to whatever food she wants."