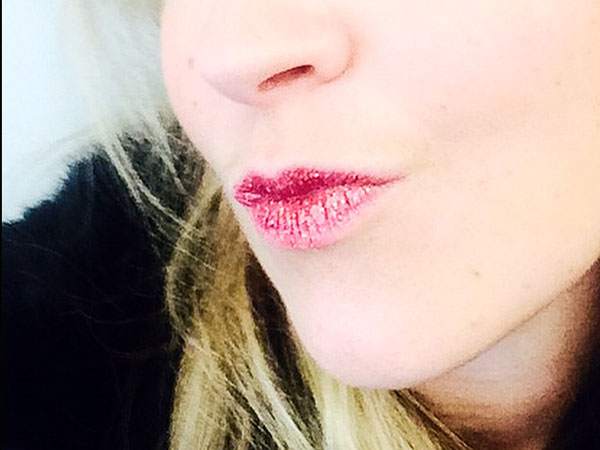 Courtesy Maddy Zollo:
Maddy Zollo, Beauty Assistant: My love of glitter started in middle school with Bath & Body Works. Not only did they have the most delicious/nauseating scented glitter rollerballs (which I'd bathe my arms and legs in), but they also had a lipstick called Glitter Bug — whic, you guessed it, was entirely made of glitter. So when the British brand Ciaté came out with their Glitz Fix (aka a lip glitter kit) this holiday season, I had to try it.
The premise is simple: Apply a glitter sealer to your lips, generously apply the loose glitter with a sponge applicator and then use the included brush to lightly dust off any excess. In less than five minutes, I took my lips from zero to a full-on glam. I thought it might look like I got in a fight with an art supply closet and lost, but I actually loved how it looked. Plus everyone else seemed to be into it too. Another added bonus was that I could drink — without leaving a sparkly mark on the glass.
The verdict? I'm a Glitz Fix believer! I think next time, I'd layer it over a red lipstick for an added pop of color. But however you wear it, t's a surefire way to dress up your holiday look. I'm definitely going to be rocking it again this season (although maybe not under the mistletoe)!
St. Tropez Gradual Tan Plus Firming, $40. Ease of use: 10, Smell: 6, Staying power: 9