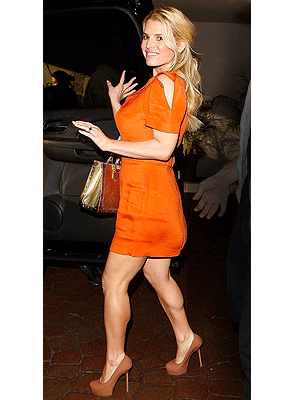 X17online
Nothing can stop Jessica Simpson's slimdown train. After reaching her weight loss goal, the star continued to show off her summer-ready bod this weekend in a bright-orange mini dress, which put her crazy-toned stems on full display. (Seriously, check out her calves!)
The occasion? Simpson attended interior designer Kathryn Sykora's baby shower in L.A. Sunday, and from her huge smile, you could tell she felt great in the short design. (See more photos at X17 Online.) And it wasn't just her enviably toned legs we were wanting to emulate — she also had a pretty half-back wavy do that would be perfect for a summer wedding.
RELATED PHOTOS: Body after baby! See the star moms who bounced right back
The mom to daughter Maxwell, 21 months, and son Ace, 7 months, also let loose with her girlfriends this weekend, sharing a three-way kiss with pals — actress Odette Annable and singer Stephanie Pearson — which she posted on Instagram.
Last week Simpson debuted her latest Weight Watchers commercial, featuring the star in a clingy white dress. "I have a newfound determination that I'm really proud of," she shares in the spot. "I can honestly say I've never been happier."
–Brittany Talarico