Kat Graham Will Help You Find the Outfit of Your Dreams on The Hunt
Thanks to Twitter, Facebook and our own email, we know how much PEOPLE StyleWatchers love to track down celebrity outfits — and how important the pursuit of the perfect piece (or look for less!) can be. And as much as we love to be the authority on all things style, we have to admit we've got some competition thanks to The Hunt, an app and website totally devoted to helping you find exactly what you're looking for. You post the picture, and 100,000+ daily active users help you track down the best match. Our favorite part? Some of those users include celebs like Kylie and Kendall Jenner, Tyra Banks and Kat Graham.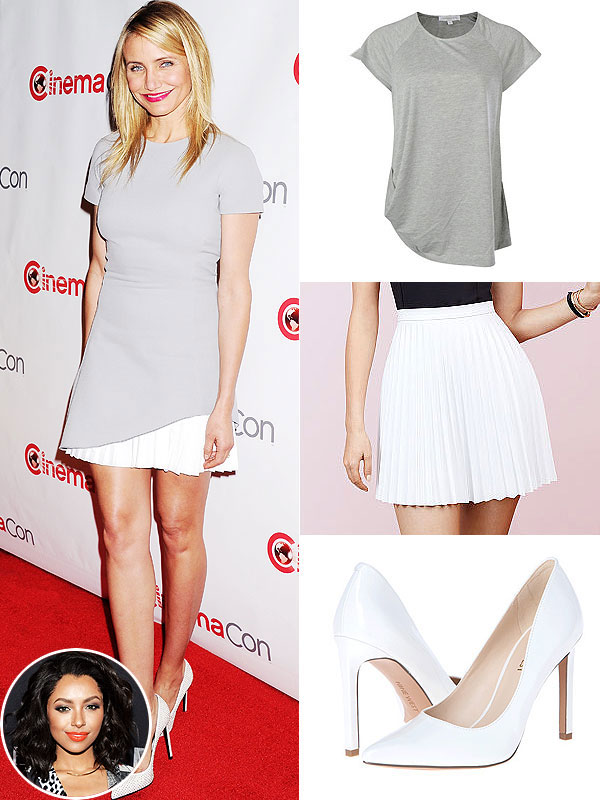 Broadimage; Courtesy Psyche;Courtesy Victoria's Secret;Courtesy Zappos
In fact, Graham has been busy helping PEOPLE StyleWatch Twitter followers find outfits they've been loving on the site. We asked our readers to share what looks they're coveting, then started "Hunts" for them, which Graham hopped on to help "solve."
Love this look on CAMERON DIAZ simple & sleek ow.ly/v9eb0 via @StylewatchMag (aka PeopleWatch) cc @jennimac_rocks #fashion—
Kate A. Spencer (@kateaspencer) March 29, 2014
For example, reader @kateaspencer loved the above look on Cameron Diaz — so we started a hunt on her behalf, and Graham came up with the perfect lookalike outfit, courtesy of Psyche (the shirt), Victoria's Secret (the skirt) and Nine West (shoes). (See all the matches here!)
@StyleWatchMag @emmyrossum Do you have a Look for Less for this jacket? I love the color! #spring #pink—
Jen (@Jensosinfull) March 28, 2014
She also helped reader @jensosinfull find a $91 lookalike for Emmy Rossum's hot pink J Brand motorcycle jacket.
@StyleWatchMag Help me find the red wedge sandals she wears in recent I Really Love My photos? Lookalikes for 25 yr-old's budget please :)—
Emily Angstman (@ETAngst) March 28, 2014
Graham tracked down a $32 close match to Reese Witherspoon's chic red wedges for @ETAngst…
@StyleWatchMag love 1 (Reese Witherspoon)- 10 (Eva Mendes' purse)- 40 (Jessica Alba skirt)- 50 (Busy Philips). Thanks!! #fashion #love—
Rose en Vogue (@RoseenVogue) March 27, 2014
And even a $15 find for Jessica Alba's snakeskin print skirt, which @roseenvogue asked about.
Convinced yet? (We seriously are about to buy that whole Cameron outfit — love that it's such a creative take on the star's Victoria Beckaham dress!) Want to see what Kat or Kylie are up to on the site? Download the app in iTunes now and start solving. Kylie's already got a challenge out for you:
Have you tried The Hunt? Are you already an expert outfit finder? Tell us what you're searching for below!
–Alex Apatoff