Three Hair Moments We Must Discuss, Courtesy of L.C., Alicia and Mia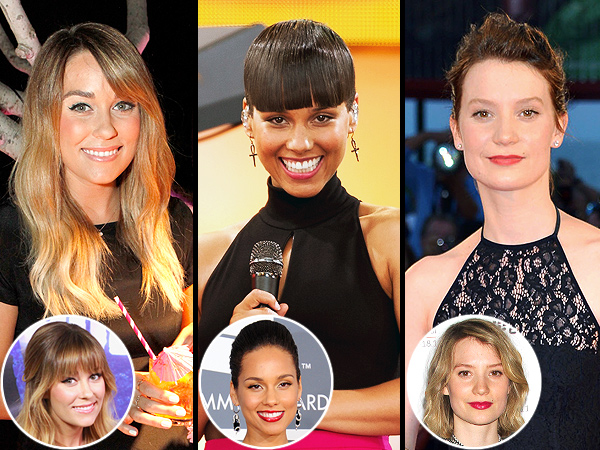 Getty; FilmMagic; Zuma; Insets: Getty; AP; INF
Before New York Fashion Week begins in earnest and we find ourselves buried in everything models, runways and spring styles, we've got to get a few things out of the way. Namely, a discussion of these three hair updates on three of our favorite stars.
Lauren Conrad is apparently following Michelle Obama's bangs playbook. She cut them in May, but was already slicking them back by June, and just a few months later it looks like she's over them entirely. She combed them to the side for a Malibu event last week and appears to be ready to return to the all-one-length, sideswept waves she's had for years.
RELATED: See stars' day-to-night beauty looks here — then vote on which is your favorite!

Alicia Keys has historically been more likely to try new hair looks than Conrad has, but this one is still noteworthy: She combed her hair forward for a Good Morning America appearance and wound up with a bowl-cut effect that had shades of Moe from The Three Stooges. We love her willingness to experiment (especially with often-tricky-to-style short hair) but we aren't sure that was the desired comparison.
And finally, Mia Wasikowska turned up at the Venice Film Festival premiere of Tracks sporting newly brunette locks. She's had a dishwater-blonde bob since she came on the scene, but she's rocking her new, rich brown hue with reddish highlights. Whether or not it's for a role, it's working for her — this one gets our "keep it!" vote.
Tell us: Whose latest hair look are you loving, and whose would you lose?
–Alex Apatoff