DEAL OF THE DAY: 20% Off of Seltzer Goods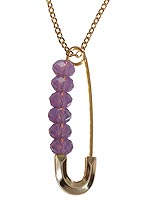 Like a charming boutique in a chic New York City neighborhood, Seltzer Goods stocks its virtual shelves with all the items we love: greeting cards, notebooks, magnets, posters — plus T-shirts and Keds shoes. Eco-friendly and super-fun, Seltzer Goods's jewelry, tops and paper goods make great gifts — or treats for yourself!
Want to grab a few pre-weekend goodies? Start shopping for whimsical finds, like the "Awesome Pin," $39 with our discount, by clicking here.