DEAL OF THE DAY: 30% Off of Taylor Kenney Jewelry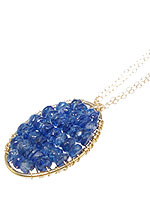 Inspired by the beauty of Colorado — where she lives in the foothills of the Rocky Mountains — Taylor Kenney uses gold and silver as the canvas for her sparkling creations, which features gems like garnets and aquamarine. From her statement necklaces and earrings to her delicate bangles and bracelets, Kenney's jewels complete any chic ensemble.
Check out some of our favorites, like the "Simone" necklace, $63 with discount, by clicking here.