Drew Barrymore's Music Video Directorial Debut: Inspired by Denim Jackets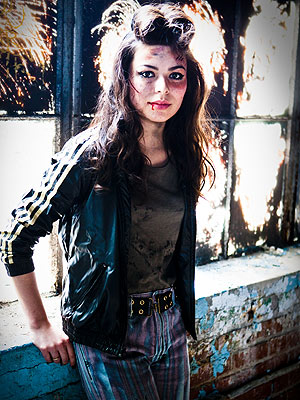 Courtesy MTV
For her first foray world of music video direction with Best Coast, one of her favorite bands, Drew Barrymore had one singular vision: "How do we make the most killer video?"
Drawing her inspiration from movies — "I love The Outsiders, The Warriors and West Side Story," she shares — Barrymore confesses to PEOPLE that her preparations for a the video were exhaustive. "Ugh. I'm Tracy Flick to the nines," she admits, referring to Reese Witherspoon's iconic Type-A nerd in Election.
Not so nerdy? Her cast. Barrymore, a veteran child actor herself, assembled a veritable who's who of up and comers including Kick-Ass's Chloe Moretz, Teen Wolf's Tyler Posey, Community's Donald Glover, The Secret Life of the American Teenager's Shailene Woodley and Alia Shawkat, the "muse" from her feature directorial debut, Whip It. She included Miranda Cosgrove as well, hoping to make a departure from the actress's sweet iCarly look. "I really wanted to change up her look — the makeup, the clothing and the attitude," Barrymore says. "She was willing to play."

Her fashion inspiration came from one simple element: "A jean jacket — it totally transcends," she explains. "It works in the '50s, it was punk rock in the '70s, it was grunge in the '90s. I wanted to bring in that timeless quality."
For color, she looked to another iconic fashion piece: "I love James Dean's jacket in Rebel Without a Cause, like that pop of red is so beautiful so I put that on Tyler." The results? One vintage-inspired yet current video that tells quite a love story.
Barrymore's next project as a director, a feature called How to Be Single, came to her toward the tail end of her own time as a single lady (she's been dating art consultant Will Kopelman for several months). "I was single for over a year," she shares. "I'm at the perfect time in my life to discuss this." Known for assembling stellar casts in projects such as He's Just Not That Into You, Barrymore says she's not allowed to share any names yet, though. As she says, "I'd get in trouble!"
–Blaine Zuckerman