Who Has the Hottest Summer Tour Style?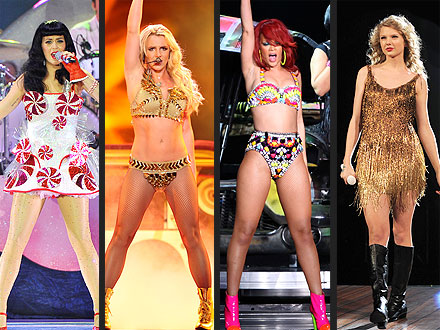 Splash News Online (3); PictureGroup
Summer 2011 doesn't just belong to "California Gurls" — it's all about Rihanna, Taylor, Britney and of course Katy, too! The pop princesses (and country queen) are all on the road, greeting their fans and performing their hits on their respective summer tours. Katy Perry's California Dreams tour features numerous candy-coated costume changes, including a Jeremy Scott-designed look inspired by Hershey's kisses. Britney Spears's Femme Fatale tour is a journey through the starlet's pop-hit past, with costumes including a snake charmer outfit and mirrored gold jacket (plus some super-cute makeup artists). Rihanna's Loud tour presents the redhead in a series of Swarovski crystal-studded outfits, including a racy bra and panty set. And Taylor Swift is showing off her style — and her musical talent (she plays several different instruments!) — on her Speak Now tour, where the Nashville star shows off her gams in short and sexy skirts. We love all the ladies' looks, but want to know what you think.