Krysten Ritter's Dress for Corey Lynn Calter: Inspired by the Undead!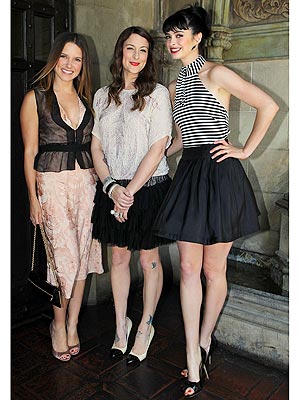 Chris Weeks/WireImage
For actress Krysten Ritter, finding inspiration for her collaboration with designer Corey Lynn Calter was as easy as "Beetlejuice, Beetlejuice, Beetlejuice": she simply looked no further than cult cinema. "Basically, every single movie that Winona Ryder was in [in] the '90s is my favorite movie," the star admits to the Los Angeles Times of her macabre muse. "This dress is very Beetlejuice." All proceeds from the $196 girly-goth design, worn by Ritter (above right), benefit Dare to Share, an organization dedicated to at-risk youth. The star, who wanted "something she could travel with and wear with flats or heels," was also "much more involved than what I expected," adds an impressed Calter (above center). And though she aspires to create a collection of eight to 10 styles, for now Ritter remains in awe of design professionals. "The fashion in the movie is heaven," she gushes of an upcoming film project alongside Kate Bosworth, styled by veteran costumer Ilaria Urbinati. To get your hands on the celeb-loved halter dress, adored by Sophia Bush (above left) Anna Faris, Kate Mara and more, click here! —Justine Harman
CHECK OUT MORE CELEB-APPROVED STEALS IN 'GUESS THE STAR BARGAIN'!