Would You Match Your Shoes to Your Dress Like Eva Longoria?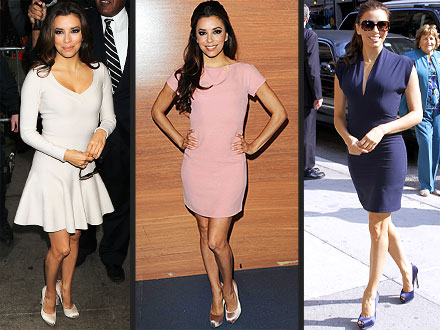 Splash News Online; Startraks; Getty
During a mini press tour of New York City this week, Eva Longoria appeared to work a mini trend: matching her satin heels to her chic little dresses. In town to promote her new cookbook, Eva's Kitchen, Longoria was totally color-coordinated, but we think she really made it work. Tuesday morning, the Desperate Housewives star popped into ABC Studios for an appearance on Good Morning America wearing a flouncy, v-neck white dress and shiny matching pumps. The day before, we spotted her at CBS's The Early Show in a pretty pink frock by Victoria Beckham Collection, paired with ballet-slipper pink heels. Later that evening, she showed up for a taping of the Late Show with David Letterman in a form-fitting navy number and deep blue peep-toe shoes. We loved watching Longoria's little match game, but we want to know what you think. Tell us: Would you match your shoes to your dress?
VOTE ON MORE STAR STYLE IN 'LAST NIGHT'S LOOK: HIT OR MISS?'