Ashanti Celebrates the Wizard of Oz With Ruby Red Designer Slippers for Charity!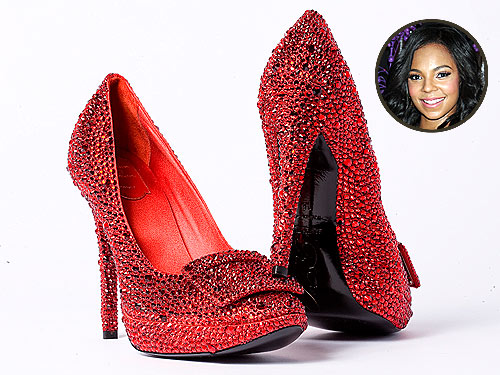 Courtesy Roger Vivier, inset: Roger Wong/INF
What better way to celebrate the 70th Anniversary of the Wizard of Oz than with a high-fashion reinterpretation of Dorothy's iconic ruby slippers? Some of the world's hottest shoe designers — including Christian Louboutin, Roger Vivier, Manolo Blahnik, Jimmy Choo and Stuart Weitzman — have taken on the style challenge, and it's all for a good cause. Singer Ashanti has also joined in the celebration, parlaying her experience playing Dorothy in the Broadway production of The Wiz into a new role as official spokesperson for the film's birthday. "[Dorothy] definitely needs some stones and diamonds and maybe some Swarovski crystals going up and down the heels," she tells PEOPLE. And while Ashanti might be somewhat of a modern-day Dorothy herself, she admits that she doesn't own a pair of ruby slippers–yet. "Giuseppe [Zanotti] made me a custom pair when I did The Wiz, but they were green for the Emerald City," she explains. "But, I think every woman should own a pair [of shoes] that makes them feel confident and fearless." And if dazzling red shoes are your idea of fierce, you can bid on any of the 20 designers' creations — including our favorite Roger Vivier pair (above) — until September 29. All proceeds benefit the Elizabeth Glaser Pediatric AIDS Foundation. Visit charityfolks.com to view all the designs and place your bid. Tell us: Which pair of ruby slippers is your favorite?