Taylor Swift On The Tommy Hilfiger Show: "I Love It!"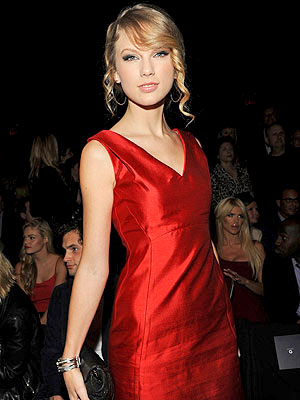 Diane Bondareff/AP
When Tommy Hilfiger sent his latest looks down the runway at Bryant Park during New York Fashion Week a cavalcade of stars turned out, including Naomi Watts, Emily Blunt, Penn Badgley and January Jones — but no one was more enthusiastic than Taylor Swift who nabbed a coveted seat in the front row. "I love it," she exclaimed to PEOPLE of the Spring/Summer 2010 collection. "It was wonderful." And the designer himself was just as thrilled to give Taylor a close-up view. "We planned it a long time ago," Hilfiger says of inviting the young star to his show. "She's a friend of mine. She's a huge star, a wonderful, wonderful girl. She's amazing," continues the designer, who's also a pal of Taylor's parents. And Hilfiger's not the only entrepeneur impressed with the country singer. Russell Simmons, who caught up with Taylor in the front row, also sang her praises. "She's a very beautiful girl: striking," he says, before addressing the VMA incident involving Kanye West. "I think what happened with Kanye at the MTV awards is a non-issue," he says. "She spoke, she was gracious. And he was very apologetic. She's very chilled, gracious and sweet." –Reporting by Jeffrey Slonim
SEE ALL THE STARS AT FASHION WEEK BY CLICKING HERE!