15% Off American Idol Adam Lambert's Charity Pendant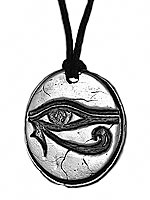 American Idol runner-up Adam Lambert has lent his design skills to Pennyroyal Silver for a pendant to benefit MusiCares, a foundation that provides a safety net to musicians in a time of need. Adam designed "The Eye of Horus", a symbol he also tattooed on his wrist when he made the top 36 on American Idol. Since the pendant went on sale this Monday, it has already raised $25,000 for MusiCares. We've snagged you 15% off Adam's pendant — just enter the code "People15" when you buy Adam's pendant at pennyroyalsilver.com and support the cause. But hurry, Adam's pendant is only available until Sunday August 30 at 11:59 PM (PST).
Click here to buy your limited-edition Adam Lambert pendant.