Dolce & Gabbana Launch Makeup Line -- With Scarlett Johansson as the Face!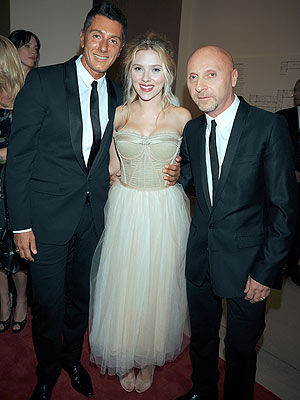 Richard Young/Startraks
We already love their sexy dresses, fabulous fragrances and amazing accessories, and now we have Dolce & Gabbana's first makeup line to look forward to! The Italian design duo told WWD that Scarlett Johansson will be the face of the new collection, which had input from legendary makeup artist Pat McGrath. "We see makeup as another thing for women, like a dress. We worked on the makeup line like we work on a clothing collection — you can change makeup like you can change your clothes, depending on your mood," Stefano Gabbana told WWD. The makeup will be packaged in glossy gold slipped into gold pouches, with colors taking inspiration from the Mediterranean (think deep blues and golds). The lipsticks will be scented with rose. "We wanted to create makeup with a scent. Domenico and I remember when we were children and opened our mother's handbags — the scent of her lipstick trailed out. I observed that when women open makeup, they smell it first," said Gabbana. As for Scarlett, she was photograhed for the sexy ad campaign by Solve Sundsbo lounging in a bed, recalling images of Marilyn Monroe. "Scarlett is sure of herself," Gabbana said. "She's a beautiful girl, but she's really easygoing. She is very Dolce & Gabbana." The products are set to launch for spring with prices ranging from $20 for nail lacquer to $59 for powder foundation. Tell us: Are you excited for Dolce & Gabban makeup?