Get Jessica Alba's TRL Dress -- On Sale!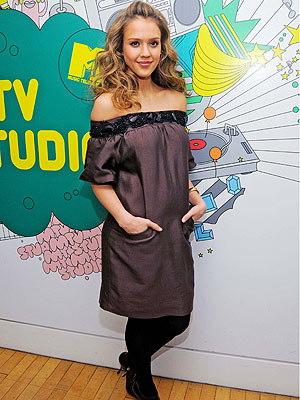 Peter Kramer/AP
The mom-to-be is taking cues from other stylish pregnant stars and steering clear of maternity clothes. Jessica Alba stopped by TRL wearing this adorable off-the shoulder Gold Hawk dress with a chic jeweled top. The satin frock covered her expanding waistline, and showed off her fabulous legs and shoulders. Though we can't wait to catch a glimpse of Jessica's baby bump, we love the fact we can still get her look- – and on sale! Get Jessica's Gold Hawk dress (in black), on sale $119 from $298, at saks.com. If you like the style you can also show some shoulder in this Bardot Neck top, $41, asos.com
UPDATE: The dress sold out! Congrats to those who snagged it. Try a similar Gold Hawk dress at neimanmarcus.com, $297, if you're dying for Jessica's look for real.