Get a Striped Clutch Like Jessica's!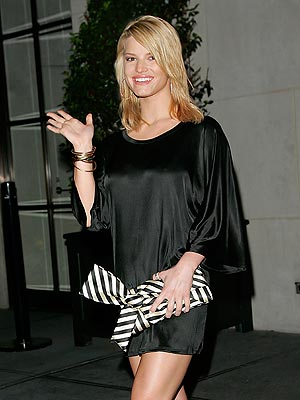 J.Lee/A.Elatab / Splash News Online
By now, we know that Jessica Simpson has great taste in purses — from her big totes to her adorable clutches, she's always got the newest and hottest bags. So, when we saw her out on the town in Manhattan this week with a brand new Valentino striped clutch, we weren't surprised. . .but we were definitely jealous! The bag added just the right graphic pop to her little black dress, and the black and white stripes could go with any color! We can't exactly afford the $850 price tag on Jessica's clutch, so we tracked down a few of our favorites for a whole lot less. Tell us: Would you wear Jessica's clutch?
Get Jessica's striped Valentino clutch, $850 at bergdorfgoodman.com
Corrie Black Stripe Clutch, $44 at tamarahandbags.com
Cutsie striped clutch, $34 at vintagejune.com
Ducti striped clutch, $25 at amazon.com