Support Breast Cancer With A Marc Jacobs Charm Bracelet!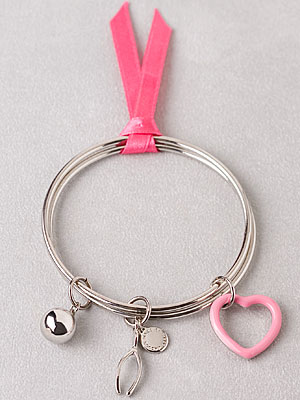 Courtesy of shopbop.com
For some of us, owning anything by the celeb favorite designer Marc Jacobs would be a dream come true, but now it doesn't have to be. Marc Jacobs has teamed with Shopbop.com to carry a limited edition bracelet for breast cancer — that promises to not break your bank. The bracelet consists of a set of two bangles with a signature pink ribbon charm, silver wishbone, ball charms and a pink heart. The bracelet is available at shopbop.com for $88 — 50 percent of which will be donated to Y-ME National Breast Cancer Organization. The Y-ME organization is a non-profit organization that promises to ensure, through information, empowerment and peer support, that no one faces breast cancer alone. What better way to support a good cause then with a designer bracelet?