Rosario Dawson Fetes Target!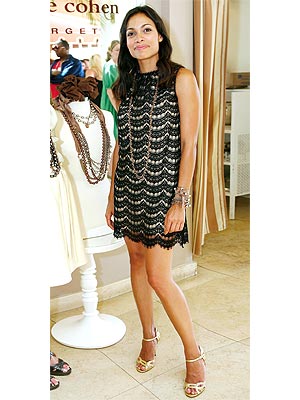 Clark Samuels/Startraks
Coming back from a few months in London, where she enjoyed shopping at TopShop, Rosario Dawson showed some love for an American cheap chic institution: Target, or as she fondly calls it, "Tar-jay". Before the party, Dawson traded in her Patrick Robinson for Target outfit in favor of a Milly black lace dress, which she accessorized with a Dominique Cohen for Target faux pearl necklace, worn as a bracelet. Dawson told PEOPLE that she thinks Dominique's pieces are "beautiful. These are hand-torn, hand-dyed, hand-stitched; they're really great. It's silk! For $30, it's really insane. It's phenomenal!" Other Dominique Cohen fans included Judith Light, who brought her adorable Ugly Betty castmate Becki Newton, who was won over by the under-$100 collection, which featured lace-covered faux pearls, hand-cut and hand-painted glass cameos, and chain necklaces. Cohen promised to send gift bags to their castmates, Vanessa Williams and America Ferrera, who were MIA. "All the girls from Ugly Betty love of our stuff," says Cohen. At these prices, we do too! Check out the whole line at target.com starting August 19.