The Ladies of Ugly Betty Rock the Red Carpet!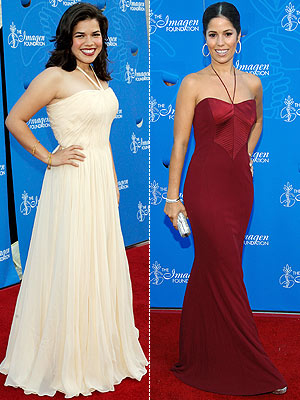 Francis Specker/ap; Jean-Paul Aussenard/ap
For all of us who are counting down until Ugly Betty returns with new episodes this fall, seeing America Ferrera and Ana Ortiz hit the red carpet of the 22nd Annual Imagen Awards in Los Angeles was especially sweet. With America in a sweeping cream Bill Blass gown and Ana in a sizzling red David Meister, the ladies looked lovely — and coordinated in their halter necklines. But looking good on the red carpet wasn't the only highlight of the evening for the two on-screen sisters. Ugly Betty won multiple awards at the award show, which celebrates the positive portrayal of Latinos in television and film, including a best actress win for America. A little something to tide us over til the season starts (we can't wait to see Posh's rumored cameo!).