Would You Wear Mischa Barton's Sequined Pants?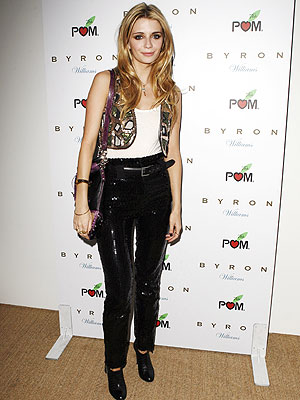 The party may have been for celeb hairstylist Byron Williams's new Beverly Hills salon, but the buzz was about Mischa Barton's latest wacky ensemble. As if her Chanel booties, patchwork purse and glittering bolero vest weren't enough of a style statement, the actress sported a pair of high-waisted sequined tapered pants. Mischa told PEOPLE, "Giambattista Valli gave me these pants from Iceberg. I did the Iceberg campaign in Paris and he designed them for me. I asked him for them so he gave them to me. I wanted a good night to wear them out so I thought Byron's party would be great. This is my first time wearing them and I love them." Well, we can't say we second Mischa's enthusiasm for the look, but we want to know what you think. Tell us: Do you like Mischa's sequined pants? Would you ever wear them?
Click here to see more photos, news and a full bio of Mischa Barton, and click here to discuss her style in Off the Rack.
Photo: Jeff Vespa/WireImage