Hot Bag Alert! Katherine Kwei Clutches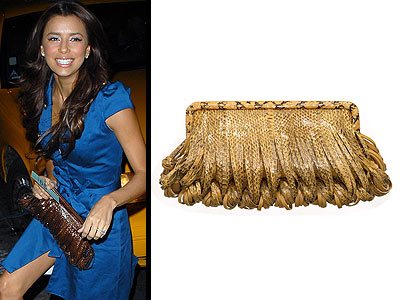 What's knot to like about Katherine Kwei's newly-launched line of handbags? The designer's debut collection has already caught the eye of celebs like Cameron Diaz, Rachel Weisz and Eva Longoria who have all been spotted recently carrying Kwei's Zara clutch. Eva and Rachel have it in chocolate brown while Cameron carries a mustard clutch. Crafted in lambskin and watersnake, the clutches are accented with the designer's signature Chinese eternity knot-inspired weave and are available in brown, black, mustard and gray at activeendeavors.com. The watersnake clutch in retails for $835 and the lambskin $550, and all are available at activeeendeavors.com.
Click here to see more photos, news and a full bio of Eva Longoria, and click here to discuss her style in Off the Rack.
Photo: Adrian Varnedoe/Pacific coast news; john muggenborg