Oscar Nominee Abigail Breslin Is One Lucky Kid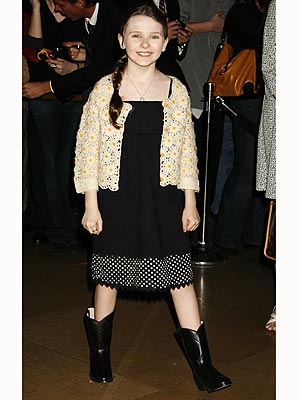 It's stressful enough for any star to dress for the red carpet, but where exactly does a 10 year-old nominee shop for these event? It's not like Balenciaga is launching a kid's like anytime soon. Of course, adorable Abigail Breslin, aka Little Miss Sunshine, has it all figured out, attending the Oscar Nominee luncheon this week in a custom made Lucky Kid ensemble. Not only is Abigail's outfit actually kid-appropriate, but it's stylish to boot (yep, those are pretty cute cowboy boots). Abigail even picked the the polka dot fabric and rick-rack trim on the hem of her dress. We can't say whether or not this is a hint towards what the Best Supporting Actress nominee will be wearing to the Oscars, but we're willing to bet she'll look sweet in anything she picks.
For all the award show gossip, check in with our Red Carpet Confidential blog.
Photo: er/flynet