Red Carpet Bling: Cameron's Cocktail Rings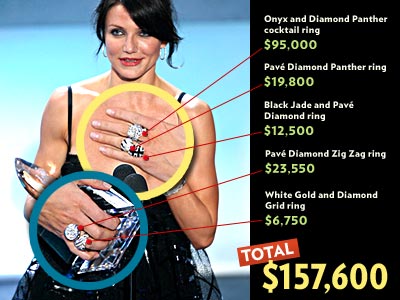 Well, she may not have Justin anymore, but Cameron Diaz had quite a lot of bling to keep her company at the People's Choice Awards — over $150k in rings alone! These aren't traditional stacking rings but rather, five large cocktail rings clumped together for maximum impact and cost. Add to that two bracelets valued at almost $80,000 and that's almost $250,000 worth of Cartier diamonds. Phew! Keep your eyes open for more stars wearing lots and lots of bling on their fingers tonight at the Golden Globes.
For more of the latest news and gossip on the Globes, check out our Red Carpet Confidential blog.
Photo: John Shearer/WireImage